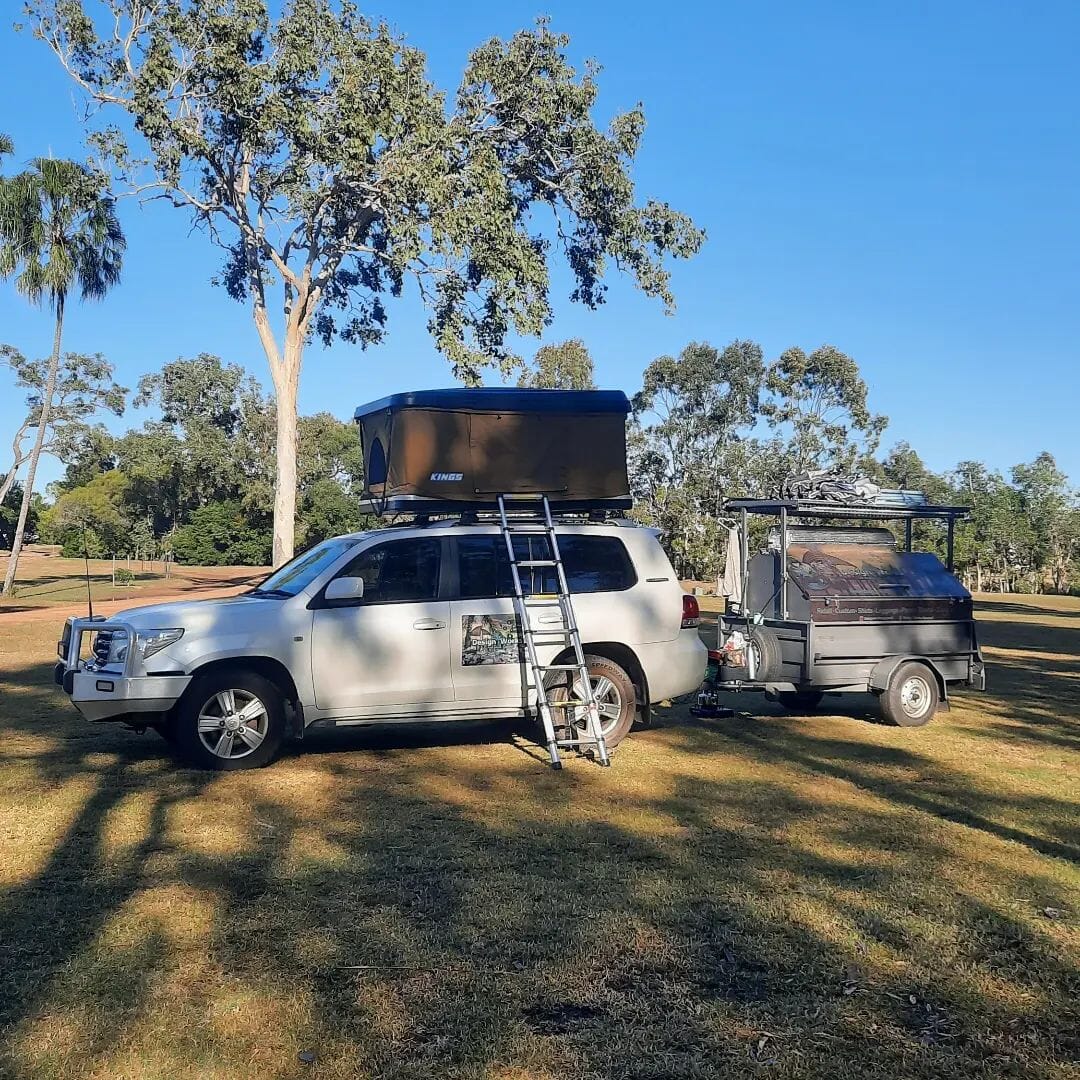 What is a rooftop tent?
A rooftop tent is literally what the name says. A tent that can be attached to the roof or the top of your vehicle, and this includes 4WD, SUV, a van or even a trailer.  A rooftop tent is perfect for campers who love to travel, music festival goers or for an afternoon nap on the side of the beach. They are quick and easy to set up, making them ideal to set up camp pretty much anywhere, and their robust build provides durability against any harsh weather or elements of nature.
 Kwiky MKII Kings Hard Shell Roof Top tent
The post-covid times made everyone eager to go outdoors, and the demand for rooftop tents skyrocketed to record-breaking heights. With so many choices and things to consider, there has never been a better time to choose what's right for you. We will look at some benefits and of course some disadvantages of having a rooftop tent. Considering specific factors, we'll also look at some of the best rooftop tents in 2022.
Things to consider when buying a rooftop tent
Hard or soft-shell top
Size – Sleeping area and head height
Weight
Vehicle and rack compatibility
Weatherproof and ventilation
Closed size
Mattress
Annexes and awnings
Extra features and accessories
Costs
Great view through the door/ window. It is all about where you park it!
Benefits
Rooftop tents are a great way to get the most out of your outdoor adventures, without worrying too much about your family's or your own safety. Here are some benefits of having a rooftop tent.
Easy to set up/ convenient

Rooftop tents are very easy to set up, most will only take less than five minutes or a lot quicker than your conventional ground tents. By utilising gas struts, most rooftop tents can be easily set and packed away in a matter of minutes.
Be elevated away from danger

Safety/View

The safety of a rooftop tent is one thing you can be sure about. Being elevated from the ground gives you that peace of mind that you can sleep properly at night, away from creepy crawlies, unexpected floods, or high tides. While you're safe above the ground, you can be sure to enjoy a beautiful view from up high.
Be comfortable

The comfort of rooftop tents is unmatched. All rooftop tents provide a soft mattress and adequate space to traditional ground tents, not only that, rooftop tents, provide comfort in inclement weather, such as rain or winds. Speaking of inclement, rooftop tents offer 100% protection from rain, and their rigid structure will surely go against some strong winds.
It's mobile

The lightweight and rigid design of rooftop tents make it somewhat easy to bolt on vehicles and be stable to bring on any rugged terrain you want to go.
Costs

Although buying a rooftop tent can be somewhat pricey, the costs, in the long run, will save you a lot of money. With the price of a rooftop tent, you can't compare with the advantages of sleeping on a traditional tent on the ground or booking an expensive hotel room.
Disadvantages of rooftop tents
Weight capacity

Rooftop tents weigh roughly between 50kg-100kg, and the weight raises your vehicle's centre of gravity. This can make the vehicle more unbalanced when you turn sharp corners, or travel at high speeds, which can be quite dangerous. Heavier vehicles also have greater inertia and wind resistance, and they both contribute to increased fuel consumption.
Rooftop tent gives extra height to the vehicle and this restricts certain accesses such as shopping centre undercover carparks, maccas drive-through or even your own garage. It is wise to check heigh limits of places you go before marching into the building structure and facing disastrous damages.
Mounting to Vehicle/ Fitting requirements

Before you're thinking of buying a rooftop tent, make sure you have a strong and durable roof rack or secure platform that will hold the rooftop in place. Mind you, most rooftop tents come with the standard bolts and nuts to secure the rooftop tent. However, you can go beyond and satisfy your peace of mind to get special brackets and roof mounting kits.
Mounting a rooftop tent can be a bit of a hassle, considering the weight of the rooftop, you'll need at least two or more people to lift it onto your vehicle and on the roof racks, and while it's there you'll need to move it into a position where its levelled.
Whether you're travelling or at home, rooftop tents can be quite the headache when they are mounted on your vehicle. If you're out in the wilderness and need to go collect some firewood for camp or go for a quick drive, you'll need to fold away your rooftop every time. To add to the frustration, it takes up your roof-rack space, where you'd normally load a couple of jerry cans and eskies.
While you're at home, this can cause headaches as well, whether you decide to leave the rooftop tent on your vehicle or at home. Leaving your rooftop mounted on your vehicle and using your vehicle as a daily driver is not ideal, due to accessibility issues and fuel consumption. In contrast, leaving your rooftop laying around at home, can take up space and be dangerous, mounting it on the wall or high above can be the best option.
Top 5 Best Rooftop tents in Australia
*Prices can be varied
Adventure Kings Roof Top Tent

Best Affordable rooftop tent ($900)
Spacious
Comes with all the basics you need
Lightweight (57kgs)
Value for money
https://au.adventurekings.com/adventure-kings-roof-top-tent.html
Adventure Kings Grand Tourer MKII Aluminium Rooftop tent

Best Hardtop shell
Super spacious
Quick set-up (30sec)
Comfortable sleep
Pricey ($3000)
Great features
Weight (94kgs)
https://au.adventurekings.com/adventure-kings-grand-tourer-roof-top-tent-x-adventure-kings-premium-winter-summer-sleeping-bag-5-c-to-5-c.html
Darche Intrepidor Roof Top Tent

Lightest rooftop tent weight (51kgs)
Spacious
Great features
180-degree zippered mesh windows
1500 PU waterproof rating
Price ($1999)
https://darche.com.au/intrepidor-3-1400-tourer
XTM Roof Tent

Super Spacious
Great features
75mm thick high-quality mattress
Price ($1000)
https://www.bcf.com.au/p/xtm-rooftop-tent/599143.html?srsltid=Ad5pg_FDOK9qoBgiIIrmadOJH80iShaaJQPBy44gDIPE0JtB98ZYWjStLVI
Kwiky MKII Kings Hard Shell Roof Top tent

Hard Top shell for overhead protection
Quick and easy to set up
Value for money ($1200)
This was our pick! It was our accommodation for 3 weeks touring around QLD.
https://www.4wdsupacentre.com.au/kings-kwiky-mkii-hard-shell-rooftop-tent-improved-internal-bracing-2min-setup-100-waterproof-50mm-mattress.html?gclid=Cj0KCQjw2cWgBhDYARIsALggUhqDJpFpLT-QnRYvq9lb6UYvVpihWzC26-zrSWgicXz7xavgKgBMZkUaAlxMEALw_wcB